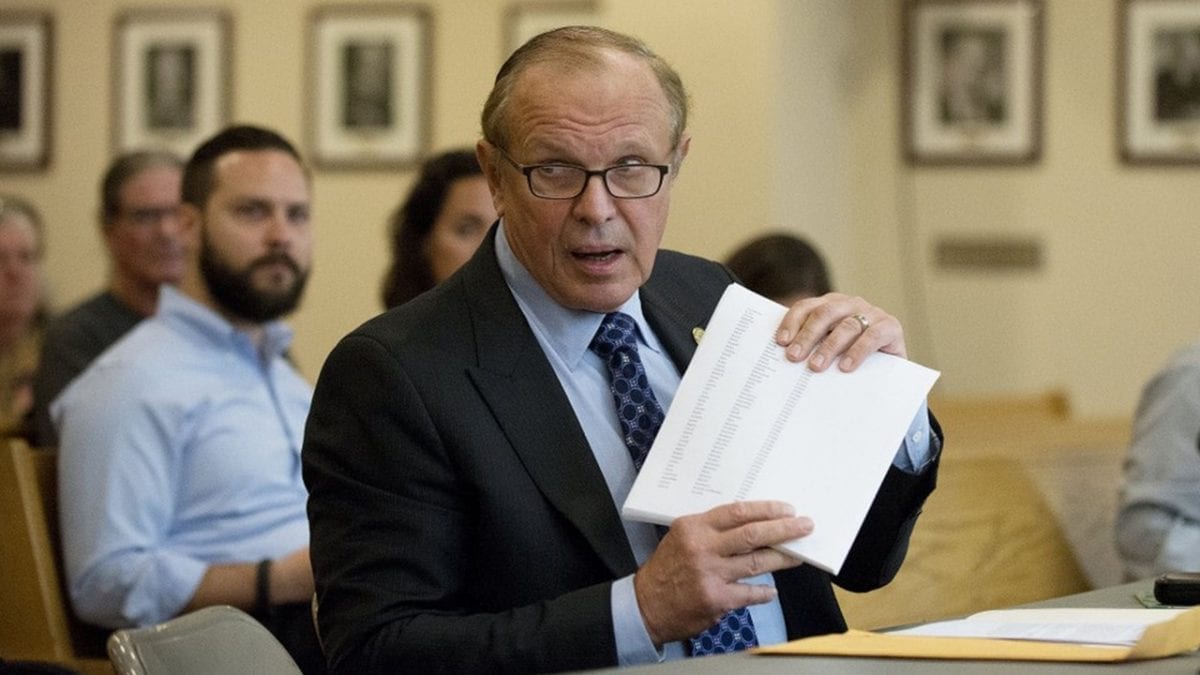 A Lifetime Of Advocacy Started At 12 yrs. Old
My political career didn't begin until I graduated St. John's Law School, but here's how my commitment to being a voice for the voiceless and for social justice began:
I want to start by thanking my parents, John and Stephanie Lesniak. My dad, to this very day, is the smartest person I've ever known. He had to drop out of school after the eighth grade to work on the docks in Elizabethport to help support his family and became a building supervisor at GAF Chemical Company.
My dad taught me as a 12 year old to stand up against discrimination. When the first Hispanic family moved into our neighborhood and bought the local grocery store, the neighbors organized a boycott to drive them out. One day when my dad and I were coming out of the store, we were confronted by a handful of angry neighbors demanding why was he patronizing the Hispanic owned store. My dad responded, "I went into the store because I wanted to buy cigarettes and they sell cigarettes there." The neighbors shook their heads in disgust and the boycott was broken.
My mom talked me into getting involved in politics after I graduated law school. After dropping out of Rutgers twice and serving in the Army, I got my undergraduate degree from Rutgers and decided to go to law school. My mom accused me of going to law school to avoid getting a job. She was right!
After graduating law school with honors, I shunned offers from Wall Street firms and worked for legal services representing poor folks and migrant farm workers. The workers living quarters were in sheds next to stored pesticide containers.
I won a landmark Women's Rights decision, Ponter v. Ponter, which recognized a women's right to choose every medical decision involving her body, going beyond Roe v. Wade. I sued the petrochemical industry, Lesniak v. The United States, and made them pay into the fund I established to help cleanup our state's abandoned toxic waste sites. Currently I'm before the New Jersey Supreme Court to overturn Governor Christie's Settlement with ExxonMobil and my legislation to allow our casinos and racetracks to have sports betting, just as Nevada does, was approved by the US Supreme Court.
During the Super Bowl and the NCAA Tournament you can't get a room in Las Vegas, while Atlantic City is a ghost town, our casinos and racing industry which provide thousands of jobs and the most acres of open space for horse farms in the country, is in a continual decline. Sports betting will bring needed revenue and new fans to both as well as revenues to the state treasury.
I got to the Legislature by good luck and hard work. I want to commend the legislators with whom I served over these past forty years. None of us are perfect, as is no one on the face on the earth, but those who put their lives in the public forum deserve more praise than they get from the public and from the press.
During my time in the Legislature I worked with my colleagues not as Democrats or Republicans, or as liberals or conservatives, but as servants of the public, not as servants of our political parties or ideological beliefs.
I sponsored the most significant environmental protection laws in the nation signed by Democratic Governor Brendan Byrne and Republican Governor Tom Kean.
I abolished the death penalty signed by Governor Corzine with the support of Republican Senators Martin, Bateman, and Allen, and my Democratic colleagues; won a Human Rights Award from France; ended mass incarceration in NJ prisons by abolishing mandatory minimum sentences for non-violent drug crimes and, working with Governor Christie, expanded eligibility for treatment instead of prison, for criminal offenders addicted to drugs.
Senator Weinberg and I and Assemblymen Reed Gusciora and Tim Eustace fought for Marriage Equality and now it's the law of the land. I proudly hosted the first same sex marriage in New Jersey at my home when Marsha Shapiro and Louise Walpin took their marriage vows officiated by then Roselle Mayor Jamel Holley.
I sponsored the most significant economic incentives for job production and investment, producing more than 70,000 permanent jobs and more than 70,000 building trades jobs and saving tens of thousands of jobs from leaving the state, co-sponsored by Senator Kyrillos and signed into law by Governors Corzine and Christie.
Senate President Don DiFrancesco and I sponsored New Jersey's first tax incremental financing program which turned a contaminated garbage dump in Elizabeth into one of the most successful shopping centers in the country employing thousands and generating millions for the City of Elizabeth and the state treasury.
Being the beneficiary of a great education at Rutgers University, I stopped a threat against its independence and helped pave the way into the Big Ten Athletic and Academic Conference.
With support from my friend and a friend to all, Senator Jim Whelan, I sponsored our public-private partnership law which spurred investment in our state universities.
With help from Pam Capaci, Executive Director, Prevention Links, and Union County Vocational Schools Superintendent Peter Capodice, I founded the first public Recovery High School in New Jersey, The Raymond J. Lesniak Experience • Strength • Hope Recovery High School. Every one of our graduates has gone on to higher education. Our first graduate is in her sophomore year at my Alma Mater, Rutgers University.
Children with substance use disorder most often drop out of their District Schools and have little hope in their lives. A Recovery High School gives them hope. My hope is we see Recovery High Schools open throughout the state.
I championed legislation to treat God's creations on earth, the animals who inhabit the planet with us, with compassion and kindnesses to make New Jersey – The Humane State.
A proud moment in my political career was when I lead a pledge with my fellow Senators to Stand Up For The Other, with Dr. Mohammed Ali Chaudry, its author, and Jake Toporek, Executive Director, New Jersey Federation of Jewish Associations.
I'm no longer an elected office, but I'm not going away. My passion won't let me. That's why I ran for governor -to do more, to have a bigger platform to pursue justice for all, not only in New Jersey, but across America and Internationally, and that's why I founded The Lesniak Institute For American Leadership.
Stay Connected below and be part of a new generation of American Leaders, young and old, devoted to public advocacy